Obituary for Jan "Jon" Karl Fretthold
Jan "Jon" Karl Fretthold, 75 passed away, Wednesday, April 12th at St. Anthony's hospital in Westminster, Colorado. Jon was born January 26, 1942 in Fairview Park, Ohio to Norman and Ruth Fretthold. He graduated from Fairview Park High School and married his high school sweetheart (whom he met on a blind date) on February 4, 1960. Jon went on to get his Mechanical Engineering Degree and was employed as a Senior Principal Engineer. Jon and Carolyn moved to Colorado in 1971. In 1984 he was employed at Rocky Flats. Jon wrote many publications related to the design and use of Hepa filters. He was a member on a variety of committees and would attend conferences across the country speaking on that very issue.

Jon loved anything and everything to do with the Civil War. When Jon and Carolyn moved to Henderson, Nevada from Baltimore, Maryland in August of 2009, he became active in the Nevada Civil War History Association, Inc. (NCWHA). He was their Commander of Artillery, Vice President and a Board Member. Jon and his good friend, Jim Edwards would attend re-enactments of the Civil War at Bonnie Springs Ranch and hold re-enactments at various elementary and middle schools. Jon would dress up as a Confederate Colonel. Jon has an extensive collection of Artillery items from the Civil War and coins from all eras.

Jon is survived by his wife, Carolyn and their 6 children. Daughter Stacy (Eric) Elder, daughter Peggy (Jerome) Roldan, son Jef Fretthold, son Todd (Misty) Fretthold, daughter Courtney (Brent) Smith, daughter Susan (Robert) Hall and many loving grandchildren, great grandchildren, nieces, nephews and extended family. He was preceded in death by his parents, Norman and Ruth, sister Lynn and brother Rodney. He is survived by his 3 brothers Timothy, Kurt and Christopher. Jon was a loving husband, father, brother, grandfather and friend to all.

Jon: Your love, your patience, your understanding, your wisdom, and your amazing sense of humor will live on inside us forever. You have given us gifts that are more precious than anything in this world. You will always live on in our hearts! Love, Your Family

His wife and his children have shared the following memories:

Carolyn Lee Fretthold (Jan's Wife)

I met Jan "Jon" on a blind date when we were in high school. It started as a whirl wind romance which led to 57 years of marriage, 6 children and multiple moves across the country. My favorite memory of Jon was his relationship with our backyard hummingbird. To watch Jon feeding the same hummingbird day in and day out was something in itself. The hummingbird would circle around his head chitter chattering to him until he was done filling the feeder. That very same hummingbird was there every day without fail. It would chase all the other humming birds away like it was telling them "this is my home"! Upon our move to Colorado, Jon relinquished the feeder to a very good neighbor in hopes that the hummingbird would follow her. We believe it did! I will always love Jon dearly and I feel I was truly blessed to have such a wonderful man by my side for all these years.


Stacy Lynn (Fretthold) Elder (Daughter)
Eric Auguste Elder (Spouse)
Brandon Michael Elder (Child)
Chad Daniel Elder (Child)
Kelsie Rae Elder (Child)

My Dad the "Tourist Guide"

For as many years as I can remember our father was the "Best Tour Guide" ever. Whether I was visiting him and my mother in Denver, Baltimore, Las Vegas, travelling up to Washington, Virginia, or Pennsylvania you could always count on a complete tour, full of specifics and fun interesting facts. Dad was constantly loaded down with maps, and more maps. He had maps of every city and state. He knew exactly where all the worthy sites were. He identified each and every landsite and knew more about the civil war than anyone that I have known. Every time I went for a visit, I would return home with a prize possession, whether it was a real bullet shell from Gettysburg, a 3-legger buffalo nickel (which is my favorite) or a momentum from his civil war collection. Oh how he loved that era! He would repeatedly ask me "When are you, Eric and the kids coming to visit - there are so many places that we have not yet visited! You have not even had a chance to see my re-enactment of the civil war at Bonnie Springs Ranch!" You were right Dad, I missed that one!


Peggy Anne (Fretthold) Roldan (Daughter)
Jerome del Rosario Roldan (Spouse)
Raquel Lynne Roldan Poots (Child)
Myree Jerome Poots (Grandchild to Peggy and Jerome)
Jenna Rashelle Roldan (Child)

I have always had a special bond with my Father as we shared the same birthday - I was his "gift" as much as he was mine. We would always try to be the first to call each other and say "Happy Birthday to Me" and it made my day all that more special.
My father never let anything stop him or hold him back, when things broke, fell apart, or life was hard he never gave up, he just took the challenge and made it work. If something had duct tape on it you know that it had been fixed by my Dad - he probably could have built a house with just duct tape! I will treasure the last nine years that he lived near me as I was able to get to know him better and grow closer to him. I was also able to work with him as he was a safety consultant for my husband's Demolition company and he taught me a lot. I will always attribute my strength and my ability to get through anything to my father – giving up was never an option for him, he just found the strength to keep moving forward.
I love the song "Seeing My Father in Me", it reminds me so much of my Dad!


Jef Fretthold (Son)
Alexandra Nicole Fretthold (Child)
Aiden James Fretthold (Grandchild to Jef)
Derrick James Fretthold (Child)
Cheyenne Fretthold (Child)


What I remember most about my dad is his love for the Civil War and guns. He was so knowledgeable about the war and every gun he had. Looking at his collection was like being at a museum. I could sit with him for hours and look at everything and listen to him tell his stories. He knew all the details and where everything came from. I took that from my dad, I have the same passion for guns and gun parts. Now all my extra money goes to my gun collection! Dad and I also worked together at Rocky Flats for many years, I am thankful that I had that time with him.


Todd Matthew Fretthold (Son)
Misty Lynn Remy Fretthold (Spouse)
Tanner Matthew Fretthold (Child)
Brody Michael Fretthold (Child)

I have many, many memories of my Dad but I think the most joyful memory of all was waking up early on Sunday mornings and reading the Sunday Funnies with him. I looked forward to that moment quite a bit. He would always have that section of the newspaper ready for me to read first and foremost because he knew I enjoyed it. On rare occasions, he would take us out to the front yard early in the morning and let us hit golf balls across the street into the middle school football field. Of course, after the sheer joy of actually hitting the golf balls into the field, he would have us go and hunt them down.... not so much fun! Sunday mornings with my Dad are my favorite memories. I will miss talking to him about anything and everything. I love my Dad and will miss him more than he knows.


Courtney Lynne Fretthold-Smith (Daughter)
Brent Eugene Smith (Spouse)
Jayden Nicole Smith (Child)

Growing up, I remember my Dad as always so funny, playful and strong. We always joked about who was the # 1 child. The one thing I remember most about dad was that If we ever needed his help with anything, he was always there for us! When dad got sick and he continued to grow weaker and weaker, I began to listen to my favorite song for comfort, Cornerstone by Hillsong.

Christ alone,
Cornerstone
Weak Made Strong, In The Saviors Love

I know dad is in Heaven with Gods loving arms around him, now strong and healthy ...No longer weak.
And I know that if I ever need him, he is still there for me!
Dad, I love you, always and forever, Courtney (Your # 1 child, wink wink)

John 16:22
So also you have sorrow now, but I will see you again, and your hearts will rejoice, and no one will take your joy from you


Susan Danielle Fretthold- Hall (Daughter)
Robert Allen Hall (Spouse)
Cody Allen Hall (Child)
Zoey Lynne Hall (Child)

As I think about my Dad, I am so proud of the man he was! He was so hard-working, sometimes working multiple jobs to care for all of us. And boy, was he funny! He could always make me laugh! I remember the Christmas Blizzard of '82, he wanted to save the turkey until my sisters could make it through the next day…so he made a meatloaf shaped just like a turkey…TA DA! Christmas turkey! April Fools days always held surprises: shaving cream, rice, and water play! He could draw and build anything, and he was so creative! He was an amazing engineer, in fact, I bet he is designing a whole new heavenly floor plan for God! I miss you him so much and I know I will see him again soon!

The Man We Call Dad

He never looked for praises,
he was never one to boast.
He just went on quietly working
for those he loved the most.
His dreams were seldom spoken,
his wants were very few.
And most of the time,
his worries were unspoken too.
He was there…. A firm foundation
through our storms of life.
A sturdy hand to hold on to, in times of stress and strife.
A true friend we could turn to
when times were good or bad.
Truly our greatest blessing,
the man we all call Dad.
To send flowers or a remembrance gift to the family of Jan "Jon" Karl Fretthold, please visit our Tribute Store.
Previous Events
Service
Hunters Glen Community Center
1090 E. 130th Ave
Thornton, Colorado 80241
1090 E. 130th Ave. Thornton, Co.80241
Memorial Contribution
Nevada Civil War History Association, Inc.
Attn: Veronica Berry, 6220 Rassler Ave. Las Vegas, Nv. 89107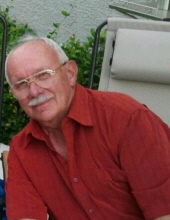 Thank you for sharing your
memory of Jan
Provide comfort by sending fresh
flowers from our local florist.
No thanks, please don't show me this again.